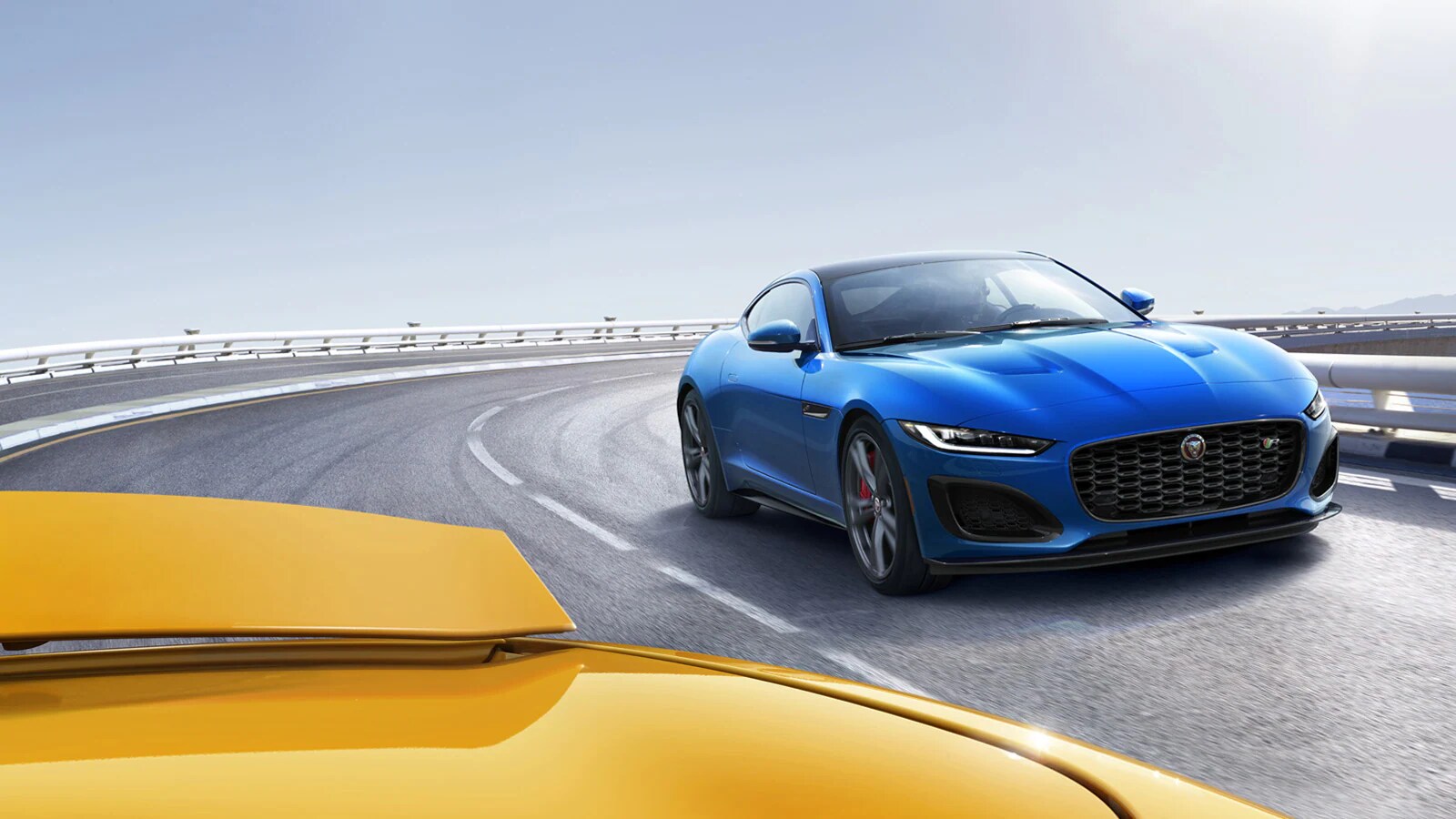 Poised, elegant, and with raw power to spare, the 2022 Jaguar F-TYPE once more demonstrates why it belongs on any luxury coupe buyer's shortlist. As the premier Jaguar dealer near Carmel, it would be our distinct honor to introduce you to this exceptional sports car.
2022 Jaguar F-TYPE - Designed for the Sophisticated Driver
The 2022 Jaguar F-TYPE embodies the best of sophisticated British design with a classical coupe body led by an elegantly tapered front end and a wide active grille.
Recessed door handles and a dynamic airflow system endows this sports car with a seamless appearance that naturally draws the eye from the ultra-slim "J" blade LED headlights to the lean athletic slope of its rear pillar.
Not Just a Pretty Face
The 2022 Jaguar F-TYPE features a roster of exquisitely machined V8 engines. Base models feature a supercharged 5.0-liter powertrain that delivers 444 horsepower and 428 lb-ft of torque, while top-tier R models at our Jaguar dealership up the ante with a stunning 575 horsepower and 516 lb-ft of torque.
That kind of power lets the 2022 Jaguar F-TYPE roar from zero to 60 miles per hour in only 3.5 seconds, and with the Switchable Active Sports Exhaust system, you'll be able to experience every rumbling decibel of this remarkable engine every time you press the accelerator.
The 2022 Jaguar F-TYPE is compatible with the Jaguar Remote™ app, which lets you check your vehicle's status, start the engine, and even fine-tune the climate system all from your smartphone.
An Interior Paradise
Journey into the future every time you enter the 2022 Jaguar F-TYPE thanks to a stylishly modern and minimalist cabin. Tasteful soft-touch materials and premium accents abound, and a standard 10-inch infotainment touchscreen lets you effortlessly control media, in-dash navigation, and compatible apps connected through standard Apple CarPlay® and Android Auto™ integration.
Anti-Theft Features
The 2022 Jaguar F-TYPE features a standard Stolen Vehicle Locator, which can help the authorities recover your vehicle if it is stolen.
An intuitive driver control array, including a 12.3-inch digital gauge cluster, keeps you at the center of the action, and with options for coupe or convertible models, there's a cabin for every preference and weather condition.
Schedule Your Test Drive the 2022 Jaguar F-TYPE Today
Finally - a sports car as capable and captivating as you are. To experience the 2022 Jaguar F-TYPE for yourself, call or visit us online at Jaguar Indianapolis and schedule your test drive today. Be sure to ask about our competitive Jaguar lease options - a popular way to enjoy the exceptional luxury of the Jaguar brand.